Repairs
A unique feature of Hearing Healthcare Center is our in-house hearing aid repair lab. We have invested in personnel and equipment for the purpose of better serving our patients. In most cases, we provide same-day or 24-hour service on your hearing aids.
We offer service and repair for most hearing aids including the following brands…
NuEar • Starkey • ReSound • Siemens • Miracle Ear • Beltone • Audibel • Oticon • Phonak • MicroTech • Rexton • Sonic Innovations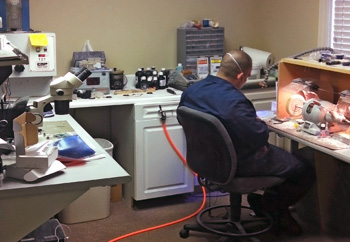 Ernie is a highly skilled hearing aid technician with over 25 years of experience in the field. He is passionate about improving the quality of life for those with hearing impairments. Ernie's expertise includes diagnosing and fixing a wide range of hearing aid issues, from battery replacements and ear molds to more complex electronic repairs. His commitment to personalized care and attention to detail has earned him a reputation as a trusted hearing aid technician in the industry.